RESILIENSI REMAJA PUTRI KORBAN BULLYING DI SEMARANG: STUDY DESKRIPTIF
burhanudin bin hasyim

Departemen Keperawatan, Fakultas Kedokteran, Universitas Diponegoro
Keywords:
Resiliensi, bullying, remaja putri, Indonesia
Abstract
This study aimed to describe the resilience level of female adolescence who experienced as bullying victim. A crossectional design and descriptive approach were selected. About 329 female adolescence who experienced as bullied at some high school at Semarang city, Indonesia were recruited as respondent using purposive sampling technique. The Adolescence Resilience Scale was used to measure the resilience levels. Results showed that 48.93% respondent reached the high level of resilience; 41.34% respondents the middle; and only 9.73% respondents had the lower of resilience. Therefore, partnership between school nurses, school personnel, and parents are necessary to develop the anti-bullying program as holistic interventions; hence it can depress the negative impact of bullying by increasing the bullying victim's resilience.
Keywords: Resilience, bullying, female adolescence, Indonesia
References
Andri, P. 2010. Lets End Bullying. Jakarta: PT. Elex Media Komputerindo. Gramedia.
Ayu, F. D., N. O. Hidayati, dan A. Mardhiyah. 2017. Gambaran resiliensi pada remaja. Jurnal Keperawatan Aisyiyah. 4(6):13–21.
Badan Pusat Statistik. 2019. Persentase Penduduk Miskin Maret 2019 Sebesar 9,41 Persen. 2019.
Fithria dan R. Auli. 2016. Faktor-faktor yang berhubungan dengan perilaku bullying. Idea Nursing Journal. VII(3):9–17.
Jahja, Y. 2011. Psikologi Perkembangan. Edisi 1. Jakarta: Prenadamedia Group.
Magfirah, U. dan M. A. Rachmawati. 2010. Hubungan Antara Iklim Sekolah Dengan Kecenderungan Perilaku Bullying. Universitas Islam Indonesia.
Oshio, A. dan H. Kaneko. 2014. Construct validity of the adolescent resilience scale. Psychological Reports. 93(5):1217–1222.
Pontes, N., C. Ayres, C. Lewandowski, dan M. Pontes. 2018. Trends in bullying victimization by gender among u.s. high school students. Res Nurs Health. 41(3):243–251.
PUSDATIN Depkes RI. 2018. Kekerasan Terhadap Anak Dan Remaja. Jakarta. 2018.
Rothon, C., J. Head, E. Klineberg, dan S. Stansfeld. 2011. Can social support protect bullied adolescents from adverse outcomes? a prospective study on the effects of bullying on the educational achievement and mental health of adolescents at secondary schools in east london. J Adolesc. 34(3):579–588.
Rutter, M. 2012. Resilience as a dynamic concept. Development and Psychopathology. 24(2)
Sapouna, M. dan D. Wolke. 2013. Resilience to bullying victimizationthe role of individual, family and peer characteristics. Child Abuse Negl. 37(11):997–1006.
Sari, P. 2010. Coping stress pada remaja korban bullying di sekolah " x ". Jurnal Psikologi. 8(2):75–81.
Sulfahmi, A. dan A. A. Ridha. 2017. Resiliensi remaja yatim piatu yang melaksanakan salat tahajud. Psikologika. 22(1):36–47.
Sunarti, E., I. Islamia, N. Rochimah, dan M. Ulfa. 2018. Resiliensi remaja: perbedaan berdasarkan wilayah, kemiskinan, jenis kelamin, dan jenis sekolah. Jur. Ilm. Kel. & Kons. 11(2):157–168.
Syah, M. H. 2015. Mensos Bunuh Diri Anak Indonesia 40 Persen Karena Bullying. Jakarta. November 9, 2015
Trevi dan W. S. Respati. 2012. Sikap siswa kelas x smk y tangerang terhadap bullying. Jurnal Psikologi. 10(1):14–26.
Usman, I. 2013. Kepribadian, komunikasi, kelompok teman sebaya, iklim sekolah dan perilaku. HUMANITAS: Indonesian Psychological Journal. X(1):51–60.
Warohmah, M. 2016. Dinamika Resiliensi Pada Penyintas Bencana Erupsi Gunung Kelud. Universitas Islam Negeri Sunan Kalijaga.
Yuliani, S., E. Widianti, dan S. P. Sari. 2018. Resiliensi remaja dalam menghadapi perilaku bullying. Jurnal Keperawatan BSI. VI(1):77–86.
Zakiyah, E. Z., S. Humaedi, dan M. B. Santoso. 2017. Faktor yang mempengaruhi remaja dalam melakukan bullying. Jurnal Penelitian & PPM. 4(2):324–330.
Zulfa, F. 2019. Hubungan Religiusitas Dengan Resiliensi Pada Remaja Muslim Di Kota Semarang [Skripsi]. Semarang: Universitas Diponegoro.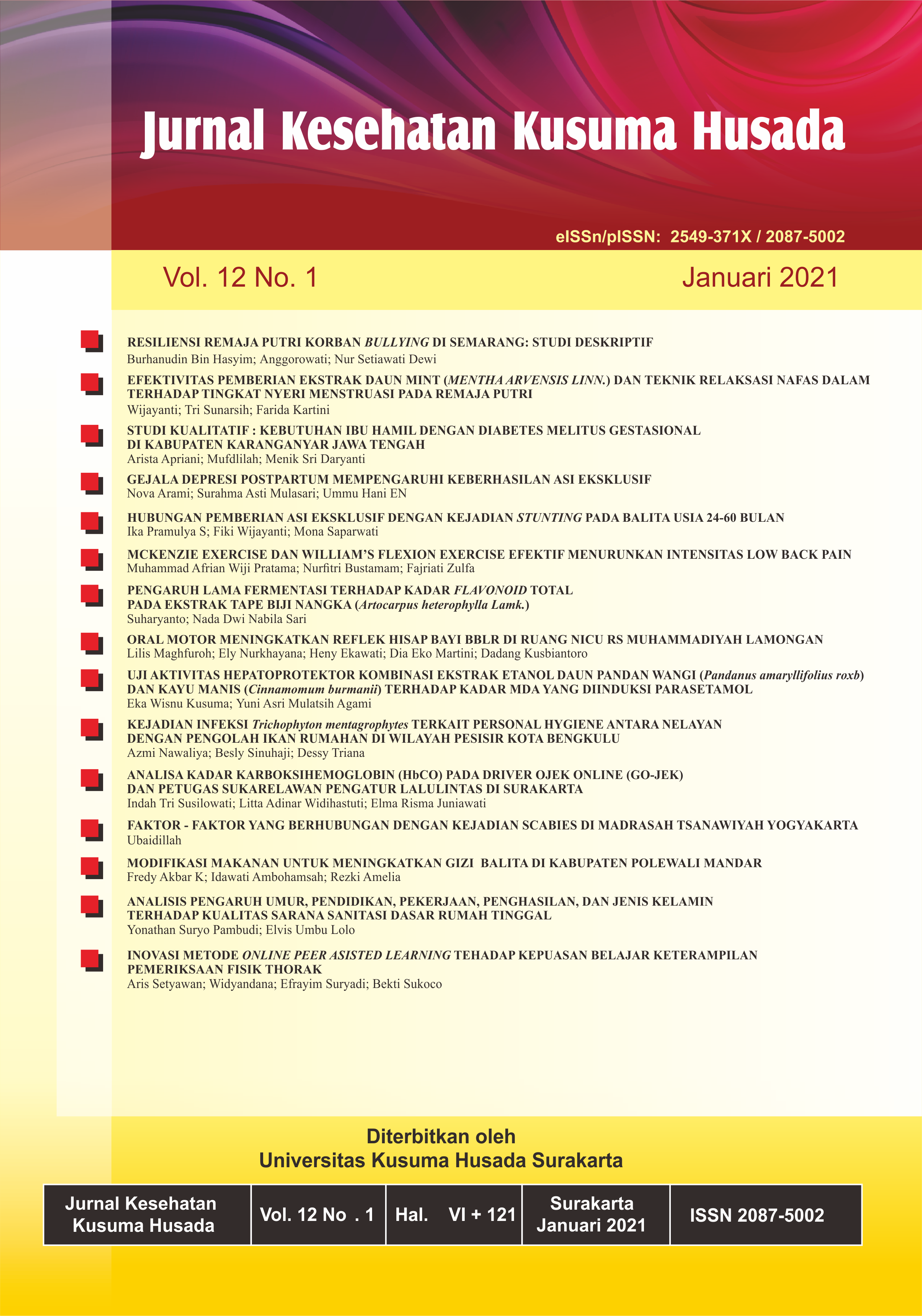 Copyright (c) 2021 Jurnal Kesehatan Kusuma Husada
This work is licensed under a Creative Commons Attribution 4.0 International License.
Hak cipta atas artikel yang diterbitkan sepenuhnya menjadi milik Jurnal Kesehatan Kusuma Husada.


This work is licensed under a Creative Commons Attribution 4.0 International License.