MODIFIKASI MAKANAN UNTUK MENINGKATKAN GIZI BALITA DI KABUPATEN POLEWALI MANDAR
Fredy Akbar K

Akper YPPP Wonomulyo

Idawati Ambohamsah

Akedemi Keperawatan YPPP Wonomulyo

Rezki Amelia

Akedemi Keperawatan YPPP Wonomulyo
Keywords:
Balita, Gizi Kurang, Modifikasi Makanan, Toddler, Malnutrition, Modification Food
Abstract
Penanggulangan balita gizi kurang dilakukan dengan cara modifikasi makanan atau berubah bentuk dan rasa makanan dari yang kurang menarik menjadi lebih menarik dan menampilkan bentuk yang lebih bagus dari aslinya.pemenuhan gizi pada balita berkaitan erat pada fungsi keluarga,dengan demikian keluarga mempunyai peran penting dalam praktik pemenuhan gizi balita. Adapun upaya atau strategi yang akan dilakukan penulis yaitu melakukan intervensi pendekatan dengan menggunakan system family Center Care kepada keluarga dalam melakukan kalaborasi guna memenuhi gizi pada balita secara mandiri yaitu melakukan modifikasi makanan balita. Berdasarkan hasil pemantauan Gizi tahun 2017 presentase gizi kurang Provinsi Sulawesi Barat balita sebesar 19,9% Dari 6 kabupaten di Sulawesi Barat Kabupaten Polewali Mandar berada pada posisi 4. Tujuan dilakukannya penelitian ini untuk melakukan modifikasi makanan pada balita untuk mengurangi prevalensi gizi kurang pada balita, dengan menggunakan jenis penelitian kuantitatif menggunakan design quasi eksperimental dan menggunakan lembar observasi guna mengetahui faktor yang menjadi masalah gizi pada balita penelitian ini digunakan karena peneliti mengelompokkan anggota sampel dan dibagi kedalam dua kelompok dengan perlakuan yang berbeda yaitu kelompok perlakuan dan kelompok control. Penelitian dilakukan di Desa Rumpa dan Buku, Kecamatan Mapilli, Kabupaten Polewali Mandar, Provinsi Sulawesi Barat. Waktu penelitian dimulai pada tanggal 27 Juli  dan 05 September 2020. Data diolah dengan menggunakan  analisis data uji statistic Chi Squart dengan tingkat signifikan p<0,05 dan jumlah responden sebanyak 70 orang dengan masing-masing kelompok berjumlah 35 orang. Hasil penelitian pada kelompok perlakuan mengalami perubahan yang signifikan sedangkan pada kelompok control tidak menunjukkan adanya perubahan yang signifikan.
Malnutrition is still one of the main public health problems in Indonesia,The prevalence of malnutrition in Indonesia is still quite high. Based on the results of nutrition monitoring in 2017 the percentage of undernutrition in West Sulawesi Province under five was 19.9% ??of 6 district in West Sulawesi Polewali Mandar district is in position 4. Objectives This research was conducted to modify food in toddlers forreduce the prevalence of malnutrition in children under five and to practice manufacturing methods PMT in malnourished mothers of children under five. This type of research is quantitative and research design isquasi experimental and use the observation sheet to determine which factors become a nutritional problem in toddlers. The study population was all children under five with nutritional status less in two villages namely Rumpa Village and Buku Village, Mapilli District, Polewali Regency Mandar West Sulawesi. The number of samples is 70 respondents divided into 2 groups (treatment group and control group) each research group there are 35 respondents according to the research inclusion criteria. Sampling technique using the observation sheet and processing the data using Paired test data analysis sample t test, with a significant level of p <0.05. The timing of the study began on the 27 July and September 05 2020. Research results There is a significant relationship between food modification (menu preparation, food processing, food presentation and methods feeding) and the practice of how to make PMT Toddler results obtained a significant level p value (p = 0.00) and there is an effect of food modification and practice of making PMT to changes in body weight under five. Obtained well-nourished toddlers as much as 18 (52.4) 17 (47.6) people and children under five who were still malnourished.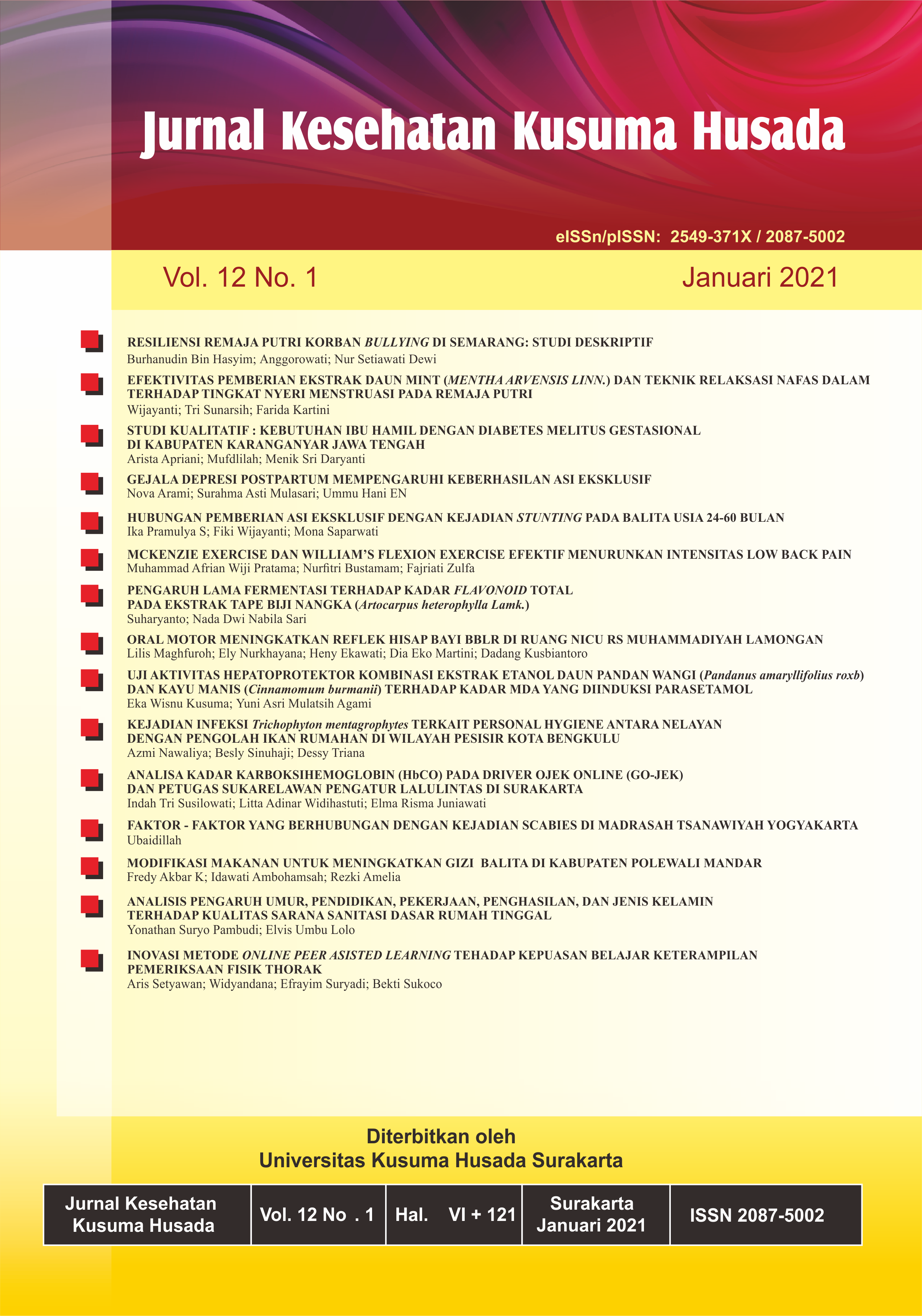 Copyright (c) 2021 Jurnal Kesehatan Kusuma Husada
This work is licensed under a Creative Commons Attribution 4.0 International License.
Hak cipta atas artikel yang diterbitkan sepenuhnya menjadi milik Jurnal Kesehatan Kusuma Husada.


This work is licensed under a Creative Commons Attribution 4.0 International License.