MEDIA MOTION GRAPHIC TENTANG PERSONAL HYGIENE MENSTRUASI BERPENGARUH TERHADAP PENINGKATAN PENGETAHUAN DAN PRAKTEK SAAT MENSTRUASI PADA MAHASISWI SEMESTER I PROGRAM STUDI KEBIDANAN PROGRAM SARJANA UNIVERSITAS KUSUMA HUSADA SURAKARTA
Ika Sugiarti

Universitas Kusuma Husada Surakarta

Desi Widyastutik

Universitas Kusuma Husada Surakarta

Budi Prasetyo

Universitas Kusuma Husada Surakarta
Keywords:
Media Motion Graphic, personal hygiene menstruasi, pengetahuan dan praktek, Menstrual personal hygiene, Knowledge and practice
Abstract
Pengetahuan yang benar tentang Personal Hygiene Mestruasi akan berdampak pada praktek saat mentruasi. Realitanya masih banyak remaja putri yang memiliki pengetahuan dan pemahaman yang sangat minim mengenai personal hygiene.Maka dipilih Media motion graphic  merupakan media  audio visual dengan tampilan  gambar animasi yang dilegkapi dengan suara, sehingga memudahkan mereka dalam memahami pesan materi yang disampaikan. Diharapkan dapat lebih meningkatkan pengetahuan dan pemahaman mereka dan pada akhirnya mereka mampu melaksanakn atau mempraktekkan secara benar saat mereka menstruasi.Teknik pengambilan sampel dilakukan dengan teknik Cluster sampel dengan metode analisa kuantitatif dengan design pre and post test, dengan uji Paired Sample Correlation dan Paired Sample T Test. Instrumen yang digunakan untuk intervensi menggunakan media motion graphic seperti video animasi terkait personal hygiene menstruasi; pengukuran pengetahuan dengan menggunakan kuesioner sedangkan praktek dengan menggunakkan ceklist. Hasil ada perbedaan Pre dan Post Test pada uji Paired Sampel Corelation yaitu 0,468 dengan nilai Sig (0,005) < 0,05.; hal ini menunjukkan bahwa ada pengaruh yang signifikan Edukasi personal Hygiene Menstruasi terhadap pengetahuan dan sikap/praktek.Hasil uji Paired Samples T Test menunjukkan nilai t hitung -7,853 dengan nilai sig (0,000) < 0,05; Kesimpulan ada perbedaan pengetahuan dan sikap yang signifikan antara sebelum dan sesudah dilakukan edukasi dengah media motion graphic. 
 Correct knowledge of Menstrual Personal Hygiene will have an impact on the practice during menstruation. The reality is that there are still many young women who have very minimal knowledge and understanding of personal hygiene. Therefore, motion graphic media is chosen as an audio-visual media with animated image display equipped with sound, making it easier for them to understand the message of the material conveyed. It is hoped that they can further improve their knowledge and understanding and in the end they are able to carry out or practice correctly when they are menstruating. The sampling technique is carried out by the Cluster sample technique with quantitative analysis methods with pre and post test designs, with Paired Sample Correlation and Paired Sample T tests. Test. The instruments used for the intervention used motion graphic media such as animated videos related to menstrual personal hygiene; measuring knowledge by using a questionnaire while practice by using a checklist. The results showed that there was a difference between Pre and Post Test in the Paired Sample Corelation test, namely 0.468 with a Sig value (0.005) <0.05; this shows that there is a significant effect of Personal Hygiene Menstrual Education on knowledge and attitudes/practice. The results of the Paired Samples T Test show a t-count value of -7.853 with a sig value (0.000) <0.05; The conclusion is that there is a significant difference in knowledge and attitudes between before and after education with motion graphic media.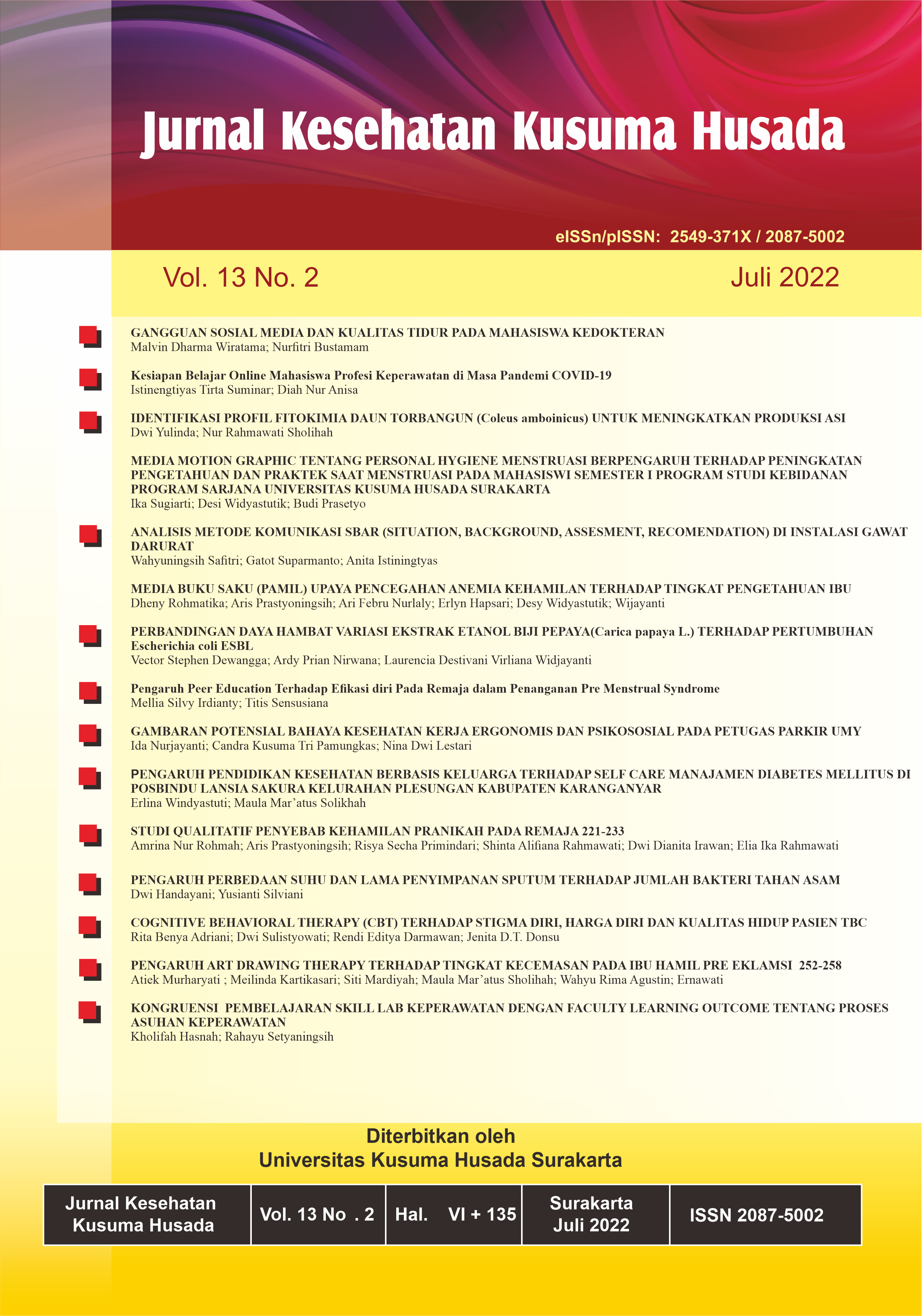 Copyright (c) 2022 Jurnal Kesehatan Kusuma Husada
This work is licensed under a Creative Commons Attribution 4.0 International License.
The copyright of the published articles belongs to Jurnal Kesehatan Kusuma Husada.


This work is licensed under a Creative Commons Attribution 4.0 International License.