EFEKTIVITAS TERAPI MINDFULNESS DENGAN PENDEKATAN SPIRITUAL PADA PASIEN WAHAM DI RUANG KASUARI RSJ DR. RADJIMAN WEDIODININGRAT LAWANG
Yuni Puji Lestari

Universitas Jember

Fitrio Deviantony

Univeritas Jember
Keywords:
Mindfulness, Spiritual, Waham, Skizofrenia Hebefrenik, Delusions, Hebephrenic Schizophrenia
Abstract
Waham merupakan salah satu gejala utama pada pasien skizofrenia yang ditandai dengan adanya gangguan pada pola, bentuk, dan isi pikir. Seseorang dengan waham memiliki penilaian yang buruk terhadap realita dan dipertahankan secara kuat dan terus-menerus. Penelitian ini bertujuan untuk menjelaskan asuhan keperawatan menggunakan terapi mindfulness dengan pendekatan spiritual untuk mengatasi masalah keperawatan waham. Penelitian ini menggunakan rancangan studi kasus melalui instrumen berupa prosedur asuhan keperawatan. Pengambilan sampel dilakukan menggunakan teknik purposive sampling pada salah satu pasien yang dirawat di ruang kasuari. Adanya respon positif berupa komitmen dari pasien untuk melakukan upaya-upaya yang sudah diajarkan. Mulai dari terbukanya pikiran, mengurangi obrolan tentang isi wahamnya, tidak lagi sering tersenyum tanpa alasan, menerima kenyataan dan mengakui kesalahan yang sudah dilakukan di masa lalu. Terapi mindfulness dengan pendekatan spiritual sangat efektif dalam menurunkan gejala psikotik seperti waham serta gangguan psikologis lainnya. Terapi ini sangat cocok diterapkan pada pasien dengan waham karena berlandaskan cinta dan kasih sayang sehingga memberikan efek ketenangan bagi pasien.
Delusion is one of the main symptoms in schizophrenic patients which is characterized by disturbances in the pattern, form, and content of thought. A person with delusions has a poor judgment of reality and is strongly and persistently defended. This study aims to describe care that uses mindfulness therapy with a spiritual approach to overcome delusional nursing problems. This research uses a case study design through an instrument in the form of nursing care procedures. Sampling was carried out using a purposive sampling technique on one of the patients treated in the cassowary room. There is a positive response in the form of a commitment from the patient to carry out the efforts that have been taught. Starting from an open mind, reducing conversation about the contents of his delusions, no longer smiling for no reason, accepting reality and admitting mistakes that have been made in the past. Mindfulness therapy with a spiritual approach is very effective in reducing psychotic symptoms such as delusions and other psychological disorders. This therapy is highly applied to patients with delusions because it is based on love and affection so that it provides a calming effect for patients.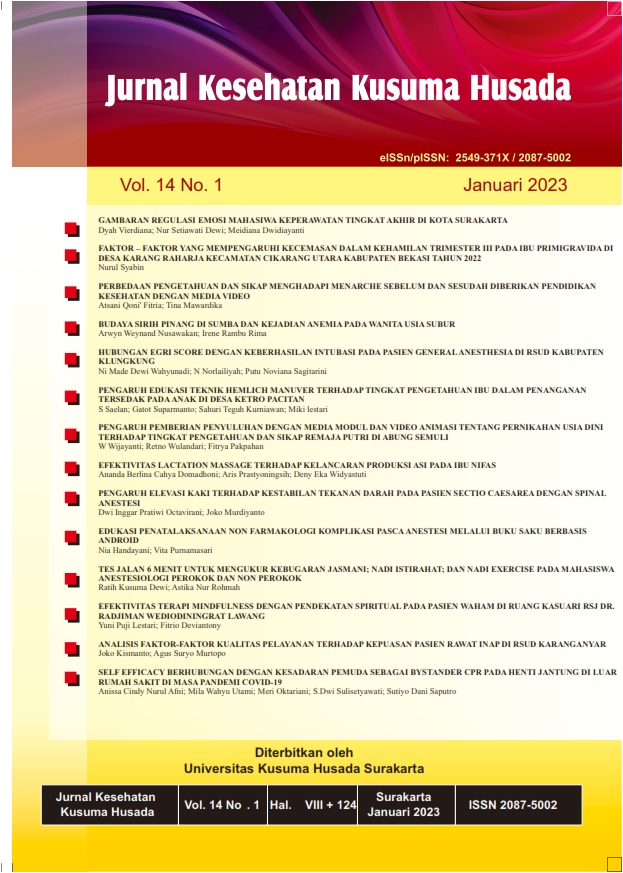 Copyright (c) 2023 Jurnal Kesehatan Kusuma Husada
This work is licensed under a Creative Commons Attribution 4.0 International License.
The copyright of the published articles belongs to Jurnal Kesehatan Kusuma Husada.


This work is licensed under a Creative Commons Attribution 4.0 International License.