KETIADAAN ANAK LAKI-LAKI: AKANKAH MENJADI FAKTOR PENGHALANG PEMAKAIAN KONTRASEPSI?
Dwi Trisnani

Badan Pusat Statistik
Keywords:
fertilitas, komposisi jenis kelamin, preferensi jenis kelamin, fertility, sex composition, sex preference
Abstract
Tingkat penggunaan alat kontrasepsi (CPR) dan fertilitas (TFR) yang berbeda antar provinsi menimbulkan pertanyaan apakah ada pengaruh budaya terhadap  pemakaian alat kontrasepsi modern yang merupakan program pemerintah melalui BKKBN. Perbedaaan TFR dan CPR antara Provinsi Sumatera Utara yang memperlihatkan masih tingginya TFR dan rendahnya CPR dibandingkan dengan Jawa Tengah menimbulkan dugaan bahwa hal ini terjadi karena adanya budaya yaitu sistem kekerabatan patrilineal pada Suku Batak yang merupakan suku yang dominan di Sumatera Utara. Budaya patrilineal yang memberi nilai lebih anak laki-laki menyebabkan berkurangnya keikutsertaan wanita dalam menggunakan alat kontrasepsi karena adanya keinginan untuk memiliki anak laki-laki. Penelitian ini bertujuan untuk mengetahui pengaruh komposisi jenis kelamin anak masih hidup yang dimiliki wanita terhadap penggunaan alat KB modern di Provinsi Sumatera Utara dan Jawa Tengah. Data yang digunakan adalah data dari Survei Demografi dan Kesehatan Indonesia (SDKI). Dalam studi ini, data yang digunakan adalah data cross-sectional untuk survei tahun 2017 di wilayah Sumatera Utara dan Jawa Tengah. Hasil analisis menunjukkan bahwa di Sumatera Utara wanita yang mempunyai anak laki-laki saja berpeluang lebih besar untuk memakai alat kotrasepsi modern daripada wanita yang tidak mempunyai anak laki-laki yang menunjukkan masih adanya son preference, sedangkan di Jawa Tengah komposisi jenis kelamin mempengaruhi penggunaan alat kontrasepsi.
Differences in levels of contraceptive use (CPR) and fertility (TFR) between provinces raise the question of whether there is a cultural influence on the use of modern contraception which is a government program through the BKKBN. The difference of TFR and CPR between North Sumatra Province which shows high TFR and low CPR compared to Central Java raises suspicion this is caused by patrilineal kinship culture in the Batak tribe which is the dominant tribe in North Sumatra. A patrilineal culture that gives more value to boy/s leads to reduced participation of women in using contraception because of the desire to have a son. This study aims to determine the effect of children sex composition on the use of modern family planning in North Sumatra and Central Java Province. The data used are data from the Indonesian Demographic and Health Survey (IDHS). In this study, the data used were cross-sectional data for the 2017 survey in North Sumatra and Central Java. In North Sumatra, the analysis showed that women who only had boys had a greater chance of using modern contraception than women who did not have boys who showed preference for boys, whereas in Central Java the sex composition does not affect contraceptive use.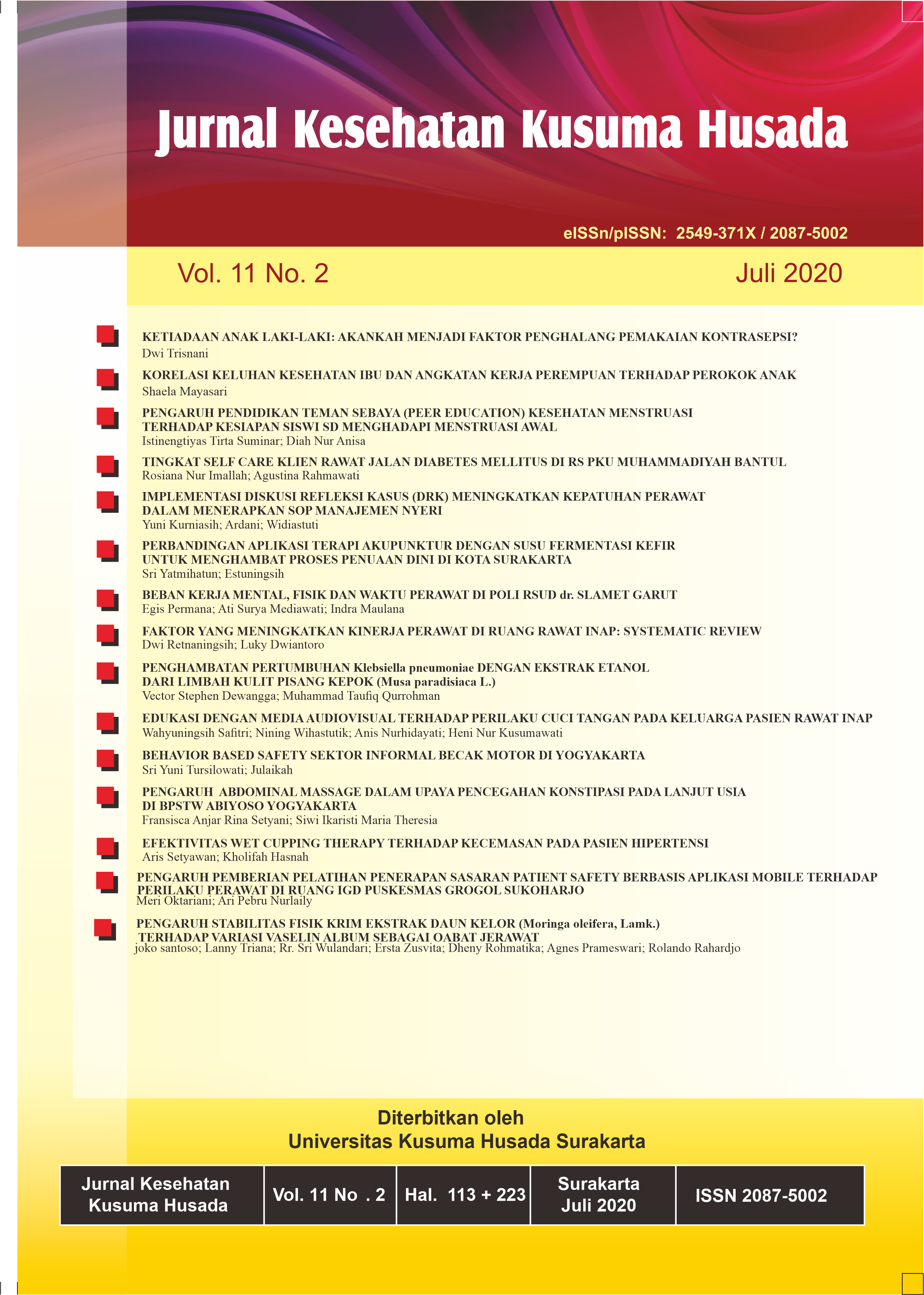 Copyright (c) 2020 Jurnal Kesehatan Kusuma Husada
This work is licensed under a Creative Commons Attribution 4.0 International License.
Hak cipta atas artikel yang diterbitkan sepenuhnya menjadi milik Jurnal Kesehatan Kusuma Husada.


This work is licensed under a Creative Commons Attribution 4.0 International License.