IMPLEMENTASI DISKUSI REFLEKSI KASUS (DRK) MENINGKATKAN KEPATUHAN PERAWAT DALAM MENERAPKAN SOP MANAJEMEN NYERI
Yuni Kurniasih

Universitas Aisyiyah Yogyakarta

A Ardani

Universitas Aisyiyah Yogyakarta

W Widiastuti

Universitas Aisyiyah Yogyakarta
Keywords:
DRK, kepatuhan, manajemen nyeri, Reflective case discussion, compliance, pain management
Abstract
Keberhasilan pelayanan kesehatan sangat tergantung pada partisipasi perawat dalam memberikan asuhan keperawatan yang berkualitas. Banyaknya tugas yang hars dilakukan perawat membuat perawat kurang maksimal dalam menjalankan tugasnya sebagai pemberi asuhan keperawatan. Salah satu kegiatan untuk memecahkan masalah yang muncul dalam pelayanan kesehatan salah satunya dengan refleksi kasus yang di Indonesia diperkenalkan melalui kegiatan Diskusi Refleksi Kasus. Penelitian ini bertujuan untuk mengetahui apakah Diskusi Refleksi Kasus (DRK) dapat meningkatkan kepatuhan perawat dalam melaksanakan SPO manajemen nyeri di RS PKU Muhammadiyah Yogyakarta.Jenis penelitian ini adalah Quasi Eksperiment dengan dilakukan pada responden yang berjumlah 35 responden. Analisa data untuk menguji pre dan post menggunakan Uji PairedT-test atauUji T berpasangan. Hasil penelitian ini menunjukan adanya pengaruh yang signifikan kepatuhan penerapan sop manajemen nyeri didapatkan t hitung 13.126 dan signifikansi 0,00.
The success of health services is highly dependent on the participation of nurses to provide quality nursing care. The number of tasks that must be done by nurses makes nurses less optimal in carrying out their duties as providers of nursing care. One of the activities to solve problems that arise in the health service is one of them by reflecting cases which introduced in Indonesia through the Case Reflection Discussion. This study aims to determine whether the Case Reflection Disscussion (CRD) can increase nurses' compliance in implementing SOP pain management at PKU Muhammadiyah Hospital in Yogyakarta. Data analysis pre and post test used the Paired T-test or Paired T Test. The results of this study indicate that there is a significant effect of compliance with the application of standart operating procedure (SOP) pain management obtained t count 13,126 and a significance of 0.00.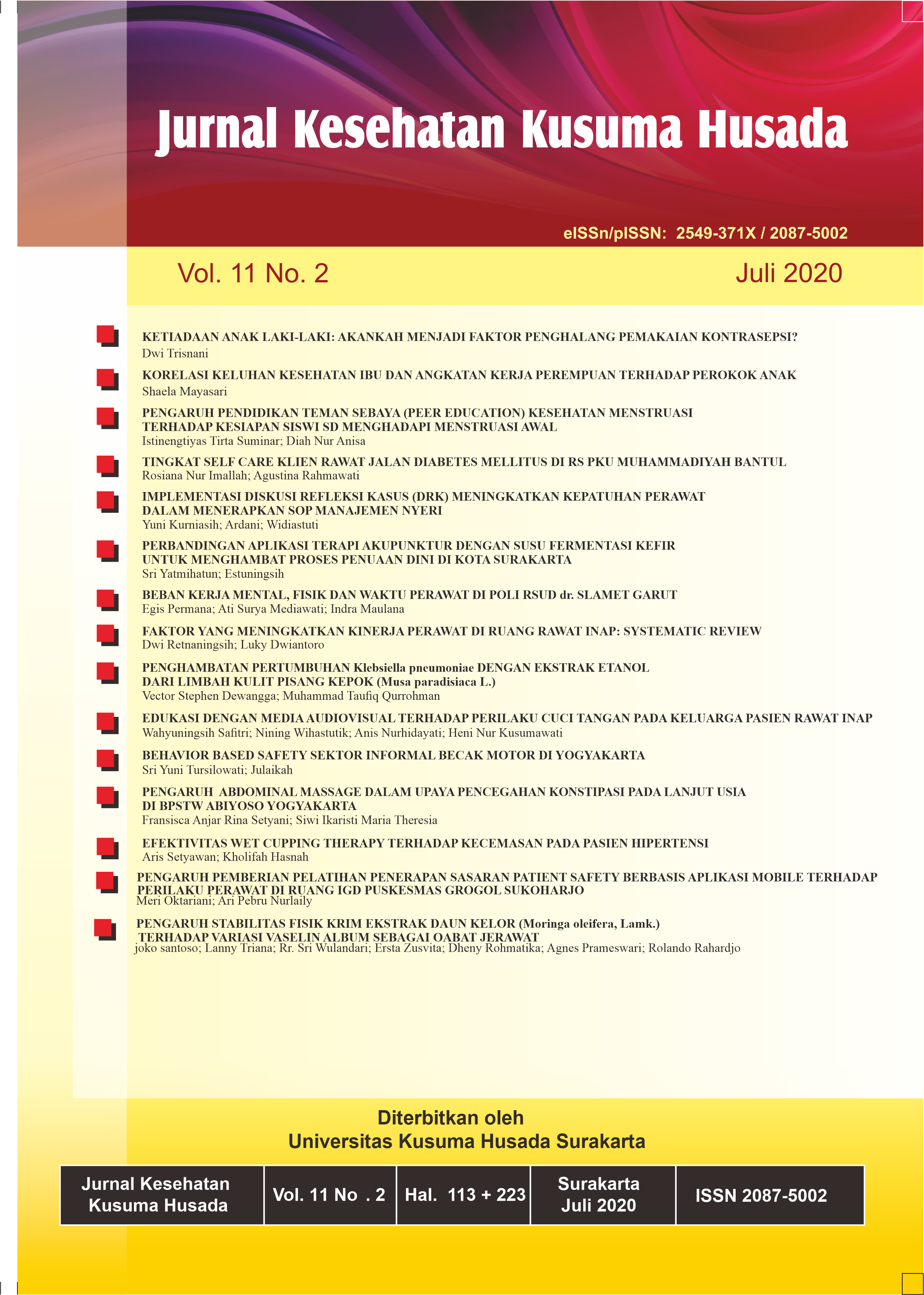 Copyright (c) 2020 Jurnal Kesehatan Kusuma Husada
This work is licensed under a Creative Commons Attribution 4.0 International License.
Hak cipta atas artikel yang diterbitkan sepenuhnya menjadi milik Jurnal Kesehatan Kusuma Husada.


This work is licensed under a Creative Commons Attribution 4.0 International License.