ANALISIS HUBUNGAN TINGKAT PENGETAHUAN DENGAN KEPATUHAN PENGOBATAN PADA PASIEN HIPERTENSI DI APOTEK SYERFIA KARANGANYAR
Eersta Zusvita Widyastuti

Universitas Kusuma Husada Surakarta

Agnes Prawistya Sari

Universitas Kusuma Husada Surakarta

Adhi Wardhana Amrullah

Universitas Kusuma Husada Surakarta
Keywords:
hipertensi, kepatuhan, pengetahuan, hypertension, adherence, knowledge
Abstract
Hipertensi ialah keadaan medis yang diindikasi dengan tekanan darah tinggi. Ada masalah non-infeksi tertentu yang bisa menimbulkan tantangan di bidang perawatan kesehatan dan sering ditemui di pelayanan kesehatan. Masalah umum dalam hipertensi adalah ketidakpatuhan pasien. Pasien mungkin tidak patuh berobat karena tidak mengetahui dan memahami pengobatan. Hipertensi yang tidak ditangani dengan baik, dapat menyebabkan banyak komplikasi dan kematian dalam jangka panjang. Riset ini berupaya mengetahui apakah ada korelasi antara pengetahuan pasien dengan kepatuhan pengobatan hipertensi di Apotek Syerfia Karanganyar. Riset ini merupakan riset kuantitatif non-eksperimental dengan desain riset korelasional. Pemilihan sampel dilakukan dengan memanfaatkan teknik purposive sampling. Kajian yang dilakukan berkaitan dengan responden. Riset ini berkaitan dengan pasien hipertensi di apotek Syerfia Karanganyar yang memenuhi kriteria kelayakan untuk berpartisipasi dengan total 70 responden. Temuan riset membuktikan bahwa mayoritas pasien hipertensi mempunyai tingkat pengetahuan yang tinggi (52,9%). Tingkat kepatuhan pasien hipertensi tergolong sedang dengan persentase 54%. Berlandaskan hasil analisis statistik Rank-Spearman, bisa diambil kesimpulan bahwa ada hubungan yang perlu diperhatikan antara kesadaran tentang penatalaksanaan pasien hipertensi di apotek Syerfia Karanganyar. Tingkat signifikansi hubungan ini ialah 0,001 (p-value < 0,005), dengan nilai koefisien korelasi 0,392 dan arah korelasi positif. Bisa diambil konklusi bahwa ada korelasi yang patut diperhatikan, kuat, dan searah antara tingkat kesadaran tentang kepatuhan minum obat pada individu dengan hipertensi. 
Hypertension, also known as high blood pressure, is a prevalent disease in Indonesia. A common problem in hypertension is patient non-compliance. Patients may not adhere to treatment because they do not know and understand the treatment. Inadequate management of hypertension may lead to numerous complications and mortality over an extended period. The objective of this investigation was to establish a potential correlation between patients' knowledge and their adherence to treatment for hypertension at Syerfia Karanganyar Pharmacy. The present investigation employs a quantitative research approach that is non-experimental in nature, utilizing a correlational research design. The sampling technique employed in this study was purposive sampling. Respondents of this study were hypertension patients at Syerfia Karanganyar Pharmacy who met the participation criteria as many as 70 respondents. The study's findings indicate that a majority of hypertensive patients (52.9%) exhibited a high level of knowledge. The level of compliance with treatment among hypertensive patients falls within the moderate range, at 54%. Based on the Rank Spearman statistical test outcomes, it can be inferred that a noteworthy association exists between the degree of knowledge and adherence to treatment among hypertensive patients at the Syerfia Karanganyar pharmacy. The significance level was determined to be 0.001 (p value <0.005), with a correlation coefficient value of 0.392 and a positive correlation direction. The findings suggest a noteworthy and robust unidirectional correlation between the level of knowledge and medication adherence among individuals with hypertension.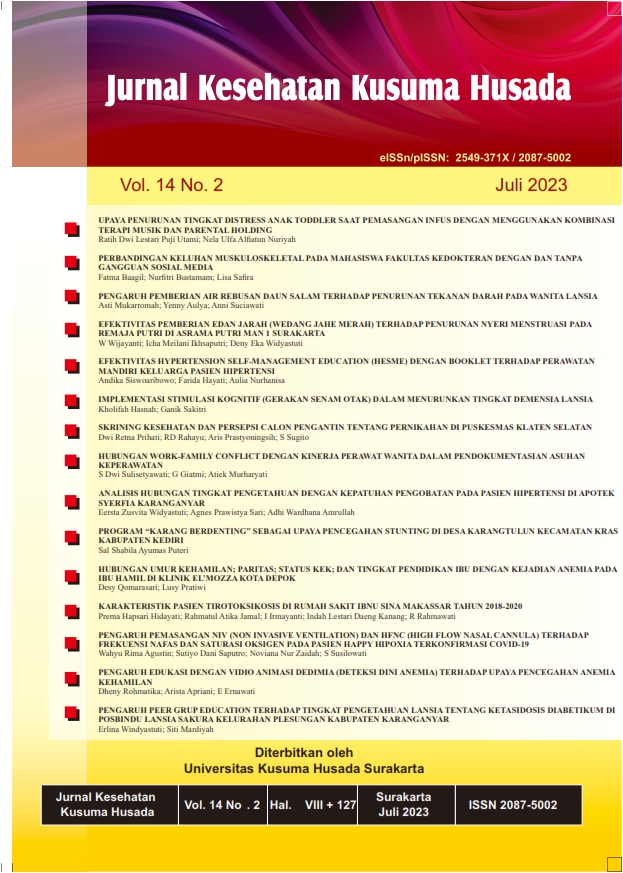 Copyright (c) 2023 Jurnal Kesehatan Kusuma Husada
This work is licensed under a Creative Commons Attribution 4.0 International License.
The copyright of the published articles belongs to Jurnal Kesehatan Kusuma Husada.


This work is licensed under a Creative Commons Attribution 4.0 International License.