UJI MANFAAT DAUN KELOR (MORINGA ALOIFERA LAMK) UNTUK MENGOBATI PENYAKIT HEPATITIS B
Sri Wahyuni

Muhammad Arif Asrikan

Miftahul Ciliia Uli Sabana

Sinta Wening Nur Sahara

Tri Murtiningsih

Rahajeng Putriningrum
Abstract
ABSTRAK
Kelor (Moringa aloifera Lamk) merupakan jenis tumbuhan perdu yang berkhasiat untuk menyembuhkan berbagai penyakit. Hepatitis B ialah peradangan pada jaringan hati, penyebabnya bisa karena virus, parasit, racun, maupun obat-obatan. Salah satu tanda serangan hepatitis ialah warna mata dan kulit penderita tampak kuning (ikterik). Oleh karena itu, hepatitis sering disebut penyakit kuning. Minyak behen, minyak terbang, myrosine diduga dikandung di tumbuhan kelor yang dapat menyembuhkan berbagai penyakit. Adanya kandungan zat berkhasiat dalam daun kelor sehingga dapat dimanfaatkan sebagai obat herbal untuk pengobatan penyakit Hepatitis B.
Kata kunci: daun kelor, hepatitis B
ABSTRACT
Moringa (Moringa oleifera Lamk) is a herbaceous plant species believed to cure various diseases. Hepatitis B is an infl ammation of the liver tissue, the cause could be due to viruses, parasites, toxins, or drugs. One sign of hepatitis attack is the color of people's eyes and skin look yellow (jaundice). Therefore, hepatitis is often called jaundice. Behen oil, oil fl y, myrosine allegedly contained in Moringa plant that can cure various diseases. The presence of nutritious substances in Moringa leaves so it can be used as a herbal medicine for the treatment of hepatitis B.
Keywords: Kelor leaf, Hepatitis B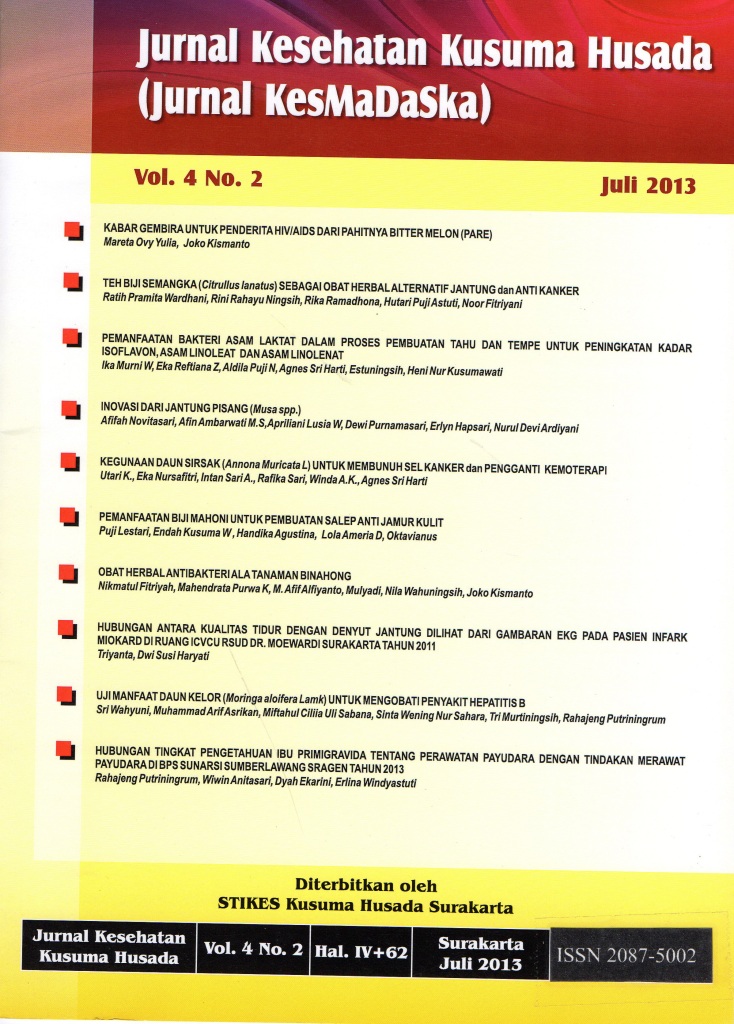 The copyright of the published articles belongs to Jurnal Kesehatan Kusuma Husada.


This work is licensed under a Creative Commons Attribution 4.0 International License.