SURVEI MITIGASI RISIKO COVID-19 PADA TENAGA KESEHATAN DI DAERAH ISTIMEWA YOGYAKARTA
Joko Murdiyanto

Universitas 'Aisyiyah Yogyakarta

Heni Suryadi

Rumah Sakit Umum Daerah Wates

Rina Nuryati

Puskesmas Temon 1

Tri Wijaya

Rumah Sakit Lapangan COVID 19 Bantul
Keywords:
alat pelindung diri, pandemi Covid-19, tenaga kesehatan, personal protective equipment, pandemic of covid-19, health workers
Abstract
Tenaga Kesehatan merupakan salah satu profesi yang paling beresiko untuk terjangkit infeksi COVID-19. Tingginya angka morbiditas dan mortalitas tenaga kesehatan menjadi perhatian khusus bagi pemerintah dan organisasi profesi terkait, sehingga perlu dilakukan survey terkait perilaku tenaga kesehatan dalam masa pandemic COVID 19. Penelitian ini bertujuan untuk mendsikripsikan mitigasi tentang perilaku tenaga kesehatan selama pandemi COVID 19. Penelitian menggunakan metode deskriptif survei dengan responden yaitu tenaga kesehatan di Wilayah Darah Istimewa Yogyakarta yang terapapar COVID 19. Analisa data menggunakan deskriptif kuantitatif. Hasil penelitian menunjukkan dari 111 responden didapatkan hasil untuk physical distancing, menggunakan masker, dan cuci tangan pakai sabun selama di rumah yaitu 73%, 55%, 99,1% sedangkan saat di masyarakat hasilnya 87,3%, 99,1%, 94,3%. Sewaktu di fasilitas kesehatan tempat bekerja, responden 48,1% bisa menjaga jarak > 1 m, sedangkan penggunaan APD mencapai 95,5%. Ada beberapa alasan Tenaga Kesehatan tidak menggunakan APD, diantaranya tidak tersedia (16,7%), lupa (8,3%) tidak sempat (8,3%), tidak lengkap (41,5%) dan lainnya seperti tidak menangani pasien, tidak kontak langsung dengan pasien terkonfirmasi COVID 19 (25,2). Ruang ganti APD masih banyak yang jadi satu antara ruang pemakaian dan pelepasan (41,3%). Dari sisi imunitas sejumlah responden tidak mengkonsumsi makanan tambahan (38%) dan multivitamin (14,8%) untuk meningkatkan daya tahan tubuh ketika terpaksa harus terpapar Covid-19. Kesimpulannya disiplin penerapan protokol kesehatan masih rendah baik ketika memberikan pelayanan kepada pasien maupun saat di rumah, hal ini tentu menjadi potensi besar terjadi transmisi dari penderita.
Health workers are one of the professions most at risk for contracting COVID-19 infection. The high rate of morbidity and mortality of health workers is a special concern for the government and related professional organizations, so it is necessary to conduct a survey related to the behavior of health workers during the COVID 19 pandemic. This study aims to describe the mitigation of the behavior of health workers during the COVID 19 pandemic. The study uses a descriptive method survey with respondents, namely health workers in the Special Blood Region of Yogyakarta who were exposed to COVID 19. Data analysis used quantitative descriptive. The results showed that from 111 respondents, the results for physical distancing, using masks, and washing hands with soap while at home were 73%, 55%, 99.1% while in the community the results were 87.3%, 99.1%, 94 ,3%. While at the health facility where they work, 48.1% of respondents can maintain a distance of > 1 m, while the use of PPE reaches 95.5%. There are several reasons why health workers do not use PPE, including unavailability (16.7%), forgetting (8.3%) not having time (8.3%), incomplete (41.5%) and others such as not handling patients, no direct contact with confirmed COVID-19 patients (25,2). There are still many PPE changing rooms that are one between the use and removal rooms (41.3%). In terms of immunity, a number of respondents did not consume additional food (38%) and multivitamins (14.8%) to increase their immune system when forced to be exposed to Covid-19. In conclusion, the discipline of implementing health protocols is still low both when providing services to patients and at home, this is certainly a great potential for transmission from patients.Keywords: personal protective equipment; the Covid-19 pandemic; health workers.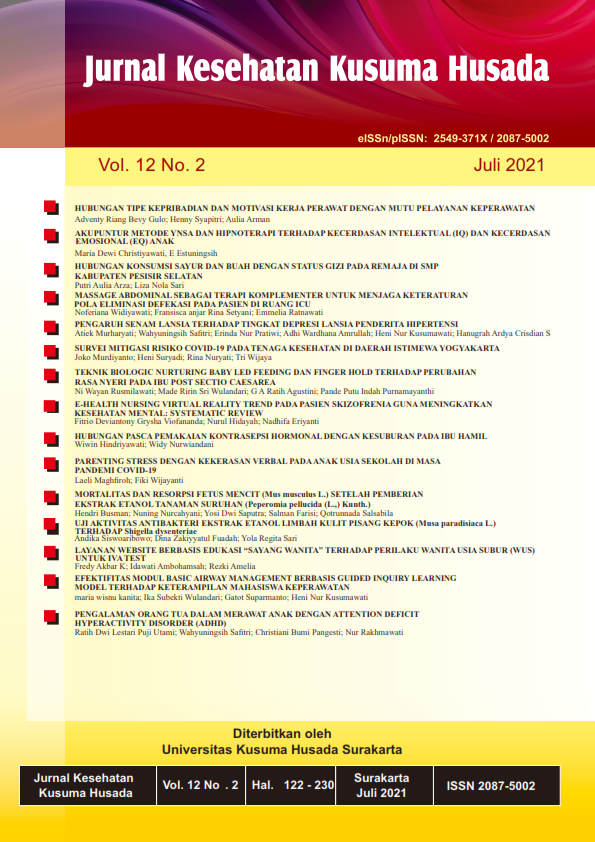 Copyright (c) 2021 Jurnal Kesehatan Kusuma Husada
This work is licensed under a Creative Commons Attribution 4.0 International License.
The copyright of the published articles belongs to Jurnal Kesehatan Kusuma Husada.


This work is licensed under a Creative Commons Attribution 4.0 International License.