GAMBARAN SEDENTARY LIFESTYLE, AKTIFITAS FISIK, DAN KELUHAN PADA TUBUH KARYAWAN USIA PRODUKTIF DI KANTOR BALAI KOTA PADANG 2021
Noly Papertu Englardi

Sekolah Tinggi Ilmu Kesehatan Indonesia

Cindy Cleodora

Sekolah Tinggi Ilmu Kesehatan Indonesia
Keywords:
aktivitas fisik, nordic body map, promosi kesehatan, sedentary lifestyle, total body stretch, health promotion, physical activity
Abstract
Karyawan memiliki risiko kesehatan saat mereka bekerja. Salah satu yang mempengaruhinya ialah perilaku dan gaya hidup. Hasil penelitian tentang Sedentary Lifestyle sebagai faktor permasalah kesehatan usia produktif didapatkan 86% berperilaku kurang gerak. Perilaku karyawan kantor biasanya menghabiskan waktu 6 jam perhari dibalik meja kerja, serta menghabiskan waktu istirahat mereka untuk mengobrol, main game, menonton dan bermain sosial media, sehingga karyawan kurang aktivitas gerak dan cendrung berdiam diri di tempat. Kesehatan karyawan merupakan unsur terpenting dalam mencapai produktifitas kerja, namun rendahnya kesadaran dalam menjaga kesehatan dan kebugaran tubuh dapat menyebabkan masalah kesehatan terutama penyakit tidak menular. Perawat mempunyai peranan penting dalam meningkatkan kesehatan kerja melalui edukasi, promosi serta pencegahan terjadinya masalah kesehatan pada karyawan, akan tetapi peranan perawat  pada saat ini masih belum mempunyai ruang untuk melakukan intervensi langsung di perkantoran. Tujuan penelitian ini melihat gambaran Sedentary Lifestyle, aktifitas fisik, dan keluhan tubuh pada karyawan usia produktif. Jenis penelitian ini adalah deskriptif analitik dengan sampel sebanyak 71 karyawan. Pengolahan data menggunakan metode analitik dengan Global Physical Activity Quesioner hasil, hasil yang didapatkan 56,5 karyawan memiliki aktifitas fisik ringan. Pengukuran sedentary lifestyle didapatkan hasil 93% karyawan memiliki perilaku sedentary lifestyle yang tinggi, dan pengukuran keluhan tubuh dengan Nordic Body Map didapatkan hasil 91,5% karyawan mengalami kesakitan tubuh yang rendah. Perawat dan pemangku kebijakan perlu melakukan kegiatan Total Body Stretch secara teratur untuk meningkatkan kualitas kesehatan dan produktifitas karyawan kantor. Kegiatan ini diharapkan mengurangi dampak dari Sedentary Lifestyle yang cukup tinggi pada karyawan.
Employees have health risks while they work. One of the factors that influence it is behavior and lifestyle. The results of research on Sedentary Lifestyle as a factor in health problems of productive age found 86% of behaving sedentary. The behavior of office employees usually spends 6 hours per day behind their desks, and spends their rest time chatting, playing games, watching and playing social media, so that employees are less active and tend to stay in place. Employee health is the most important element in achieving work productivity, but low awareness in maintaining health and body fitness can cause health problems, especially non-communicable diseases. Nurses have an important role in improving occupational health through education, promotion and prevention of health problems in employees, but the role of nurses at this time still does not have the space to intervene directly in the office. The purpose of this study is to look at the description of the Sedentary Lifestyle, physical activity, and body complaints in employees of productive age. This type of research is descriptive analytic with a sample of 71 employees. Data processing using analytical methods with Global Physical Activity Questionnaire results, the results obtained are 56.5 employees have light physical activity. Measurement of sedentary lifestyle showed that 93% of employees had high sedentary lifestyle behavior, and measurement of body complaints with the Nordic Body Map showed that 91.5% of employees experienced low body pain. Nurses and policy makers need to carry out Total Body Stretch activities regularly to improve the health quality and productivity of office employees. This activity is expected to reduce the impact of the Sedentary Lifestyle which is quite high on employees.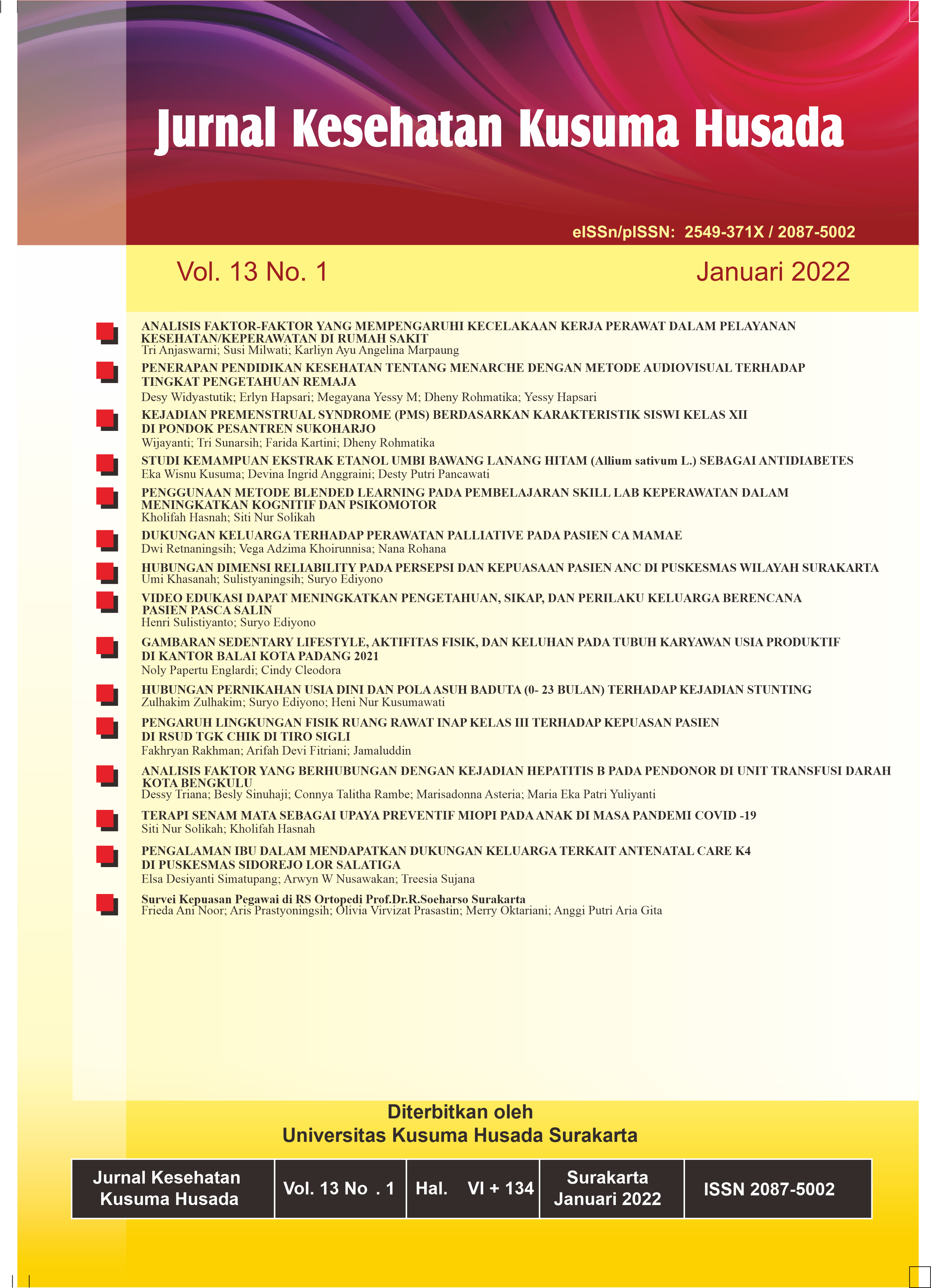 Copyright (c) 2022 Jurnal Kesehatan Kusuma Husada
This work is licensed under a Creative Commons Attribution 4.0 International License.
The copyright of the published articles belongs to Jurnal Kesehatan Kusuma Husada.


This work is licensed under a Creative Commons Attribution 4.0 International License.