GAMBARAN REGULASI EMOSI MAHASIWA KEPERAWATAN TINGKAT AKHIR DI KOTA SURAKARTA
Dyah Vierdiana

Departement of Nursing Faculty of Medicine University Diponegoro

Nur Setiawati Dewi

Univesitas Diponegoro

Meidiana Dwidiayanti

Univesitas Diponegoro
Keywords:
Kesehatan mental remaja, mahasiswa tingkat akhir, Regulasi emosi, Adolescent mental health, motion regulation, final year student
Abstract
Gangguan mental merupakan jenis gangguan jiwa umum yang prevalensinya paling tinggi yaitu 3,6% dari populasi dunia. Gangguan kontrol emosi merupakan gangguan yang sering dihadapi mahasiswa. Presentase terbanyak gangguan mental emosional dengan angka 10% pada kelompok umur 15 – 24 tahun, umur tersebut merupakan usia produktif untuk mendapatkan pendidikan formal yaitu pada jenjang perkuliahan. Mahasiswa tingkat akhir mempunyai pyang sangat kompleks dengan menghadapi tekanan yang harus mereka tanggung karena proses menyelesaikan tugas akhir. Penelitian ini bertujuan untuk memperoleh gambaran regulasi emosi pada mahasiswa, menggunakan metode penelitian deskriptif yang dilakukan pada 162 mahasiswa. Tehnik penentuan sampel menggunakan purposive sampling. Instrument yang digunakan daalam penelitian ini adalah kuesioner emotional regulation questioner (ERQ) dikembangkan pertama kali oleh Gross untuk mengukur kemampuan tingkat regulasi emosi mahasiswa. Data disajikan dalam bentuk frekuensi dan presentase. Karakteristik responden berdasarkan jenis kelamin didapatkan hasil presentase jenis kelamin laki – laki yaitu 15,4% tingkat regulasi emosi tinggi, 2,4% regulasi emosi sedang,dan 5,5% regulasi emosi rendah. Pada jenis kelamin perempuan dengan tingkat regulasi emosi tinggi sebanyak 47,5%regulasi emosi sedang 16,1% dan regulasi emosi rendah 13%.Kesimpulan dari penelitian ini adalah sebagan besar responden berjenis kelamin perempuan yang memiliki regukasi emosi sedang dan rendah 29,1% dan laki laki 7,9%

Mental disorders are a type of general mental disorder with the highest prevalence, namely 3.6% of the world's population. Emotional control disorder is a disorder that is often faced by students. The highest percentage of mental emotional disorders with a figure of 10% is in the age group of 15-24 years, this age is the productive age for obtaining formal education, namely at the college level. Final year students have a very complex problem with facing the pressure they have to endure because of the process of completing their final assignment. This study aims to obtain an overview of emotion regulation in university students, using a descriptive research method conducted on 162 students. The technique of determining the sample using purposive sampling. The instrument used in this study was the emotional regulation questionnaire (ERQ) which was first developed by Gross to measure students' ability to level emotional regulation. Data is presented in the form of frequency and percentage. Characteristics of respondents based on gender showed that the percentage of male sex was 15.4%, the level of high emotional regulation, 2.4% moderate emotional regulation, and 5.5% low emotional regulation. In the female sex with a high level of emotional regulation as much as 47.5% moderate emotional regulation 16.1% and low emotional regulation 13%. The conclusion from this study is that most of the respondents were female with moderate and low emotional regulation 29.1% and male 7.9%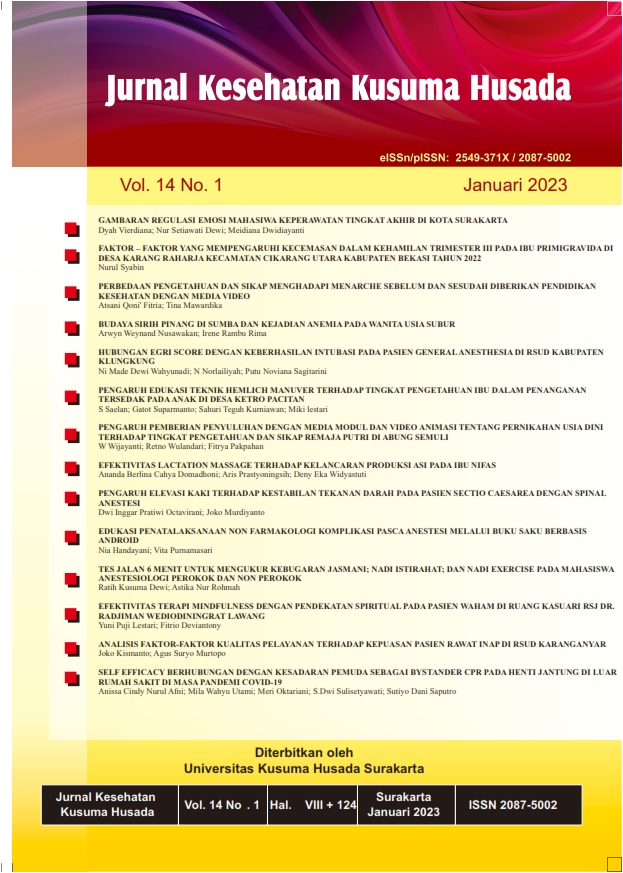 Copyright (c) 2023 Jurnal Kesehatan Kusuma Husada
This work is licensed under a Creative Commons Attribution 4.0 International License.
The copyright of the published articles belongs to Jurnal Kesehatan Kusuma Husada.


This work is licensed under a Creative Commons Attribution 4.0 International License.